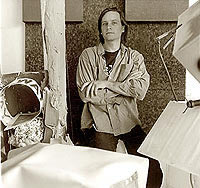 photo by Anders Goldfarb, 1995
Paul Dickerson took his own life in March 1997 at age 36. A native of Chicago, he had been living in New York since 1986. During his lifetime, his work was exhibited in group and solo shows in New York and elsewhere; he was active with pursuing his ideas about art in the form of writings (the majority unpublished), talks, and exhibitions. Probably the most successful exhibition of his work took place after his death, a show that was organized by the artist Serge Spitzer at American Fine Arts, Co. in the summer of 1998. This was the first show that was representative of Dickerson's wide use of media, and notably the first exhibition that included his drawings.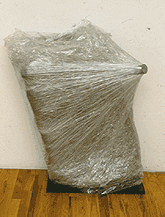 Lo Test, 1994
fuel tank, stretch wrap and rubber
42" x 32" x 12"
Most of them had never been exhibited until the exhibition Paul Dickerson: As Art at the Betty Rymer Gallery, SAIC, January 23 - February 24, 2007.
Dickerson was prolific; there exist about 4,000 drawings in different media. They range from experiments into automatic drawing, to drawings as proposals for 3-dimensional work, to works that amount to wry comments on aesthetics, language, art, and art-world politics. Most of them are deeply funny; many are tragic. All of them display a creative, peripatetic, and intuitive mind, searching for means to formalize his observations about the physical and intellectual capacity of art.
Paul Dickerson and an Unending Question of Perception and Being
Illustrated Essay with Dickerson text, Dr. Alison Green, © 2007